The Guardian Overbed Table
Hospital beds with motorized 5th wheel drive systems make overbed table usage difficult or impossible due to the low profile. We have solved this problem.
MedViron's Guardian Overbed Table (patent pending) is the only overbed table that can be properly positioned with motorized critical care beds and stretchers.
The Guardian Overbed Table has the same height-adjustment mechanism as our other quality tables.  The overbed table's top surface can be raised and lowered with one hand.
32" Overbed Table - Performance
Ease of cleaning and smooth, pneumatic operation make MedViron Overbed Tables a superior choice. The pneumatic height adjustment has been independently tested to 10,000 cycles with no loss of performance. MedViron Overbed Tables' durability leads to a lower cost of ownership when compared with other brands. 
MedViron Overbed Tables can support up to 100 lbs of evenly distributed weight.
Optional lower shelf available.  Having personal items stored conveniently within reach assists the patient in controlling and connecting with the healthcare environment, which may result in increased patient satisfaction.
39" Overbed Table Features
MedViron Overbed Tables are available with easily accessible storage for patient use. Multiple color and design possibilities are available, and we also offer custom options, such as cup holders and vanity mirrors. 
NO ASSEMBLY REQUIRED. MedViron overbed tables ship fully assembled in 100% recyclable packaging.
Easily adjustable, the height adjustment lever is used only for lowering table height.
Spill containment area retains 40oz liquid.
Column thickness up to twice a thick as our competitors for added stability.
Our X-base was designed for maximum stability.
Dual wheel casters provide smooth motion and mobility.
Top has eased edge for patient comfort.
The tables are non-handed, can be used on either side of the bed.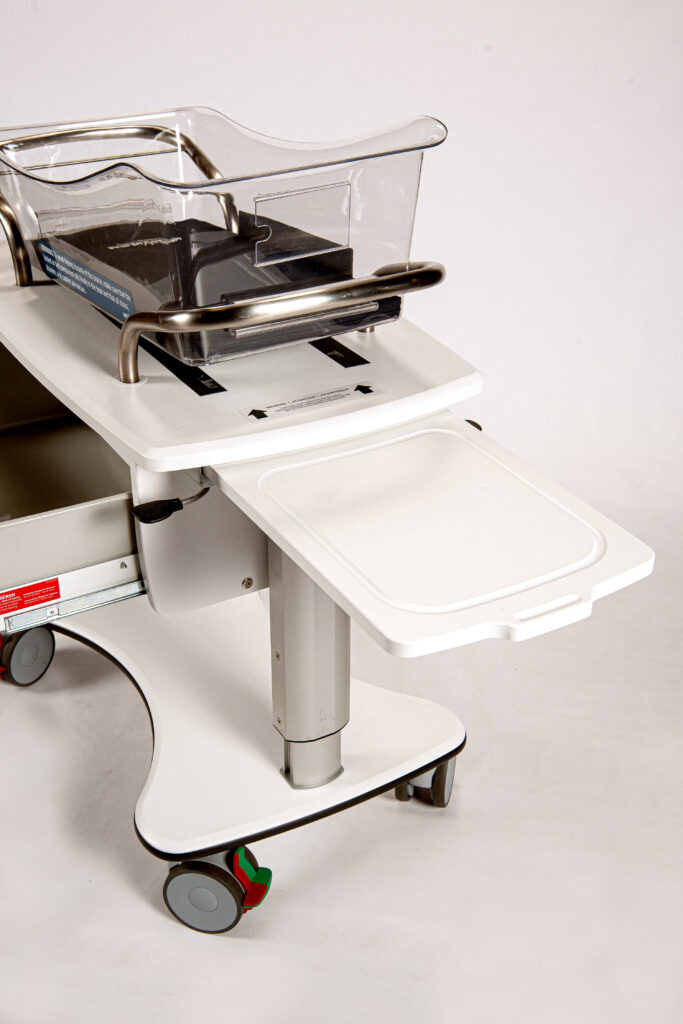 MedViron seamless overbed table tops are thermoformed with KYDEX®. KYDEX's durability and impact resistance, as well as its ability to resist fading from harsh hospital cleaning chemical use, make it an excellent choice for healthcare furniture.
Shelves and drawers can be removed for easy cleaning.
Curious about what people say about us & our services?
This is a excellent company! personally enjoyed the energy & the professional support the whole team gave to us into creating website.
Herman Miller
Graphic Designer
I wanted to hire the best and after looking at several other companies, knew Jacob was the perfect guy for the job. he is a true professional.
Jeremy Smith
Creative Head
Their team are easy to work with and helped me make amazing websites in a short amount of time. thanks again guys for all your hard work.
Shoko Mugikura
Creative Director
Overbed Table
Environmental Information
MedViron Overbed Table's proven durability leads to reduced energy usage and reduced logistics costs for the healthcare facility as the tables are replaced less frequently. Longer product lifespans mean fewer healthcare products ending up in landfills.
Recycled Content:
The MDF used in our overbed table tops contains 100% pre-consumer recycled content.
The overbed table's steel components contain up to 30% recycled content, of which 80% is pre-consumer and 20% is post-consumer recycled material.
The aluminum height-adjustment column contains up to 90% recycled content.
The overbed table's component parts, the aluminum height-adjustment columns and the steel bases, are also recyclable.
Our packaging contains an average of 80% recycled content. All cardboard packaging is fully recyclable after delivery and installation.
Learn More About medViron Overbed Tables